Unlocking the Brand Architecture Blueprint for Building Great Brands
Have you noticed that certain Brands that were highly relevant in the past are now obsolete? Then there are others that, as they expand their product line, encounter difficulties in managing their portfolios and end up diminishing their brand value.
So, why do you think companies sometimes become obsolete despite their initial success?
This is where we begin to comprehend the significance of Brand Architecture and why not having the appropriate Brand Architecture can lead to a downfall.
Why do Brands Create Sub Brands?
To understand the concept of Brand Architecture, let's first explore why companies develop sub-brands. Every company begins with a product or service that represents its Master Brand or Main brand.
However, as they progress and diversify, they create separate brands to cater to new products or services. This approach offers several advantages for both the Master brand and its customers.
Nevertheless, the creation of sub-brands can sometimes lead to confusion. In other words, when a business undergoes growth through acquisitions, launching new products, or entering new markets, the original unified brand can become a complex amalgamation of brands, sub-brands, and sub-sub-brands.
Now, let's delve into Brand Architecture and explore all the good things it brings in.
What is Brand Architecture?
Brand Architecture is a process through which we can structure a company's portfolio of brands. It defines the role of each brand and serves as a guideline for the interrelationships between them. The goal of developing brand architecture is to bring order into the chaos.
Optimal brand architecture is intuitive, aligning directly with customers' perspectives on a business and its diverse solutions to their problems.
With an intuitive brand architecture, customers effortlessly grasp the connections among a brand's different products and services, comprehending how each offering addresses its distinct requirements.
The Three main types of Brand Architecture
The classification of Brand architecture boils down to answering one main question i.e what is the dominance of the Master brand on sub-brands?
Based on the extent of dominance of the Master Brand on the Sub Brands, the Brand Architecture can be divided into
Branded House
Endorsed Brands
House of Brands
Branded House (Monolithic)
In this type of Brand Architecture the master Brand is highly dominant compared to the sub-brands or in other words all the sub-brands are derivative of the master brand with small changes.
They can have the same visual identity, with slight modifications like changing colors, new descriptors etc.
Best example of this would be Apple
In this type of Architecture, the Master Brand takes control over the whole operation. This is also called an Umbrella Brand or Brand Extension as all the sub-brands where all the sub-brands bear the parents brand name and it's always visible with descriptions placed either above or below the logo

Image Source:The Brand architecture of Apple
Endorsed Brands
The Endorsed brand architecture model is characterized by the limited synergy between the Master brand and sub-brands. In other words, all of the sub-brands are supported by the Master brand to some extent.
In this model, completely new brands are developed and supported by the visibility of the Master brand. However, compared to the Branded house model, the support provided here is less significant.
A prime example of this model is Marriott's brand architecture. In this model, we can clearly observe the connection between the Master brand and all of its sub-brands. Therefore, new brands are created that can operate independently and compete in different industries or categories.
The endorsed model is excellent if you aim to leverage the visibility of the Master brand while simultaneously desiring separate entities that can compete in different markets.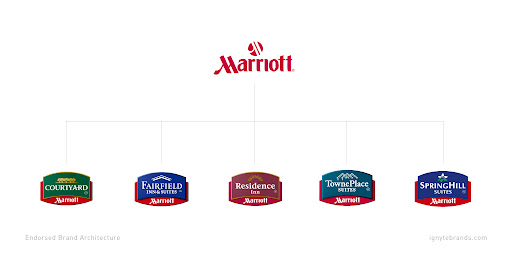 Image Source: The brand architecture of Marriott
House of Brands
This type of brand architecture is also known as Pluralistic, as it consists of a series of completely unrelated sub-brands. In this structure, the Master brand has no connection or linkage to any of the sub-brands.
In other words, the name of the parent company remains completely invisible. New brands are developed within this model, where each brand establishes its own unique image and does not rely on the Master brand whatsoever.
A prime example of the House of Brands model would be LVMH's brand architecture. In this case, most consumers are unaware of the existence of the Master brand.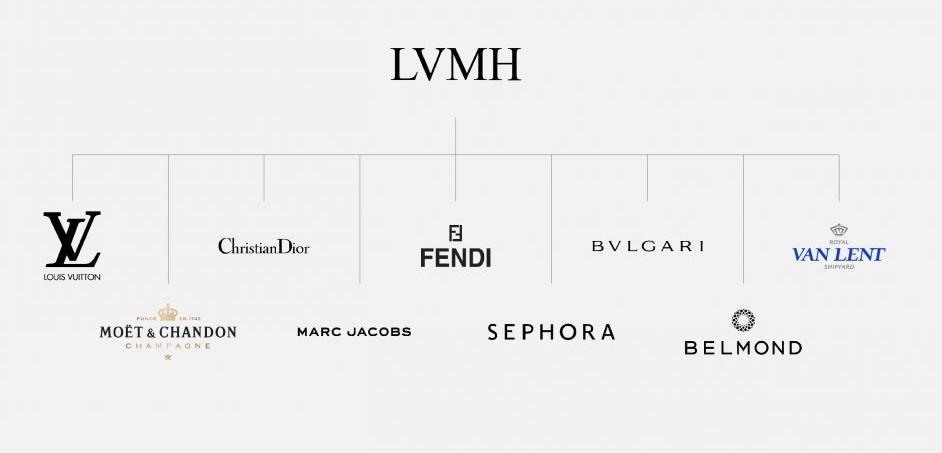 Image Source: The Brand architecture of LVMH
Richemont case study on how the implementation of brand architecture revamped the brand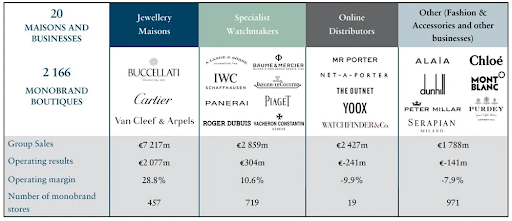 Image Source: The Brand architecture of Richemont
Richemont is a luxury goods group known for its portfolio of prestigious brands in categories such as watches, jewelry, and fashion.
Before the Brand Architecture Transformation:
Richemont had a diverse portfolio of luxury brands, each operating independently with its own visual identity, messaging, and market positioning. The brand portfolio lacked a cohesive structure, resulting in brand fragmentation and inefficiencies. Customers and stakeholders had limited visibility into the relationships between the brands and the overall Richemont group.
After Brand Architecture Implementation
Richemont implemented a brand architecture strategy to simplify its brand portfolio and create a more coherent structure. The transformation included the following elements:
Brand Clusters:
Richemont identified similar brands within its portfolio and formed brand clusters based on shared customer segments or luxury niches. Examples of brand clusters include:
a. Watches Cluster:
IWC Schaffhausen
Jaeger-LeCoultre
Panerai
Vacheron Constantin
b. Jewelry Cluster:
Cartier
Van Cleef & Arpels
c. Fashion and Accessories Cluster:
Clear Brand Roles:
Richemont defined the specific roles and positioning of each brand within the clusters. This ensured each brand had a distinct identity and value proposition, avoiding brand overlap and customer confusion. For instance:
IWC Schaffhausen focused on luxury mechanical timepieces for men.
Cartier specialized in high-end jewelry and watches for both men and women.
Chloe offered women's ready-to-wear fashion and accessories.
Strategic Portfolio Rationalization:
Richemont evaluated its brand portfolio and made strategic decisions regarding brand divestments, acquisitions, and consolidations. This process aimed to optimize the portfolio by focusing on brands with strong growth potential and divesting from underperforming or non-core brands.
Streamlined Brand Communication:
Richemont implemented consistent and coordinated brand communication across its portfolio, including sub-brands. This involved aligning brand messaging, visual elements, and marketing strategies to create a more cohesive and recognizable brand experience for customers.
What are the benefits of a clear Brand Architecture?
There are a number of reasons why having a clear Brand Architecture is beneficial for your company's growth.
Clarity and Differentiation:
Clear brand architecture helps define the unique roles and distinctions between different brands within a company's portfolio.
Consistent Brand Messaging:
A well-defined brand architecture ensures a unified brand voice, identity, and messaging across all brands, fostering brand consistency and recognition.
Efficient Brand Management:
Clear brand architecture facilitates effective resource allocation, decision-making, and management of brand assets, resulting in streamlined brand operations.
Brand Extensions and Sub-Branding:
With a solid brand architecture, companies can successfully introduce new offerings or sub-brands under the umbrella of the master brand, leveraging its reputation and equity.
Customer Understanding and Trust:
A transparent brand architecture helps customers understand the relationships and offerings of various brands, fostering trust, loyalty, and a sense of familiarity.
Strategic Decision-Making:
Brand architecture guides strategic decisions such as partnerships, acquisitions, or market positioning, ensuring alignment with the overall brand strategy.
Conclusion
At its core, brand architecture strategy requires delving into the intricacies of your brand portfolio and making informed decisions, backed by thorough research, on how to effectively utilize each brand or sub-brand for the overall benefit.
Keep in mind that the objective of brand architecture goes beyond creating catchy names for your offerings. It aims to bring order to the complexity and enhance the effectiveness of your ongoing branding endeavors.
At Luxeveda, we specialize in providing comprehensive brand-building services and assist clients in developing and nurturing a dedicated and loyal customer following.
If you are looking for a Brand management partner, we invite you to reach out to us. Our team is ready to collaborate with you in developing a customized strategic plan that aligns perfectly with your brand's unique needs and objectives.